15th September 2021 
During the last few months we have worked very hard to upgrade our foam pits to the latest standards. The original pits were completed in 1993 and the lockdowns gave us the opportunity to get this work done. Our gymnasts and coaches are delighted with the new pits and has enabled them to perfect their skills in a safe environment. Photos of the project can be found in our gallery.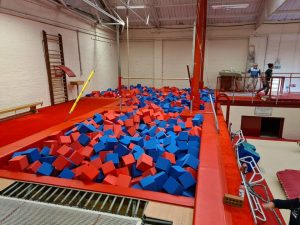 23rd April 2021 
We are delighted to announce that due to Covid 19 restrictions being lifted we will be reopening our facility on Monday 26th April. All our class times will remain the same as they were in December when we were locked down. All rules will be as before as guidance has not changed. If you are unsure of your class times please contact Vikki through our closed Facebook pages. Our coaches and staff are very happy to get back to work and look forward to seeing our gymnasts again, learning new skills and perfecting old ones. 
29th January 2021
Due to the new Covid-19 restrictions we have closed our facility until the Scottish Government gives us the ok to open again. At the moment we hope that will be in March, but as the situation is changing every day we can only speculate. We continue to make sure the gym is safe and secure so that we can open again as soon as we have permission. We thank most sincerely those parents who have continued to support us during this lockdown and we will ensure that we make it up to you when we get back to training. In the meantime our coaches and staff are working hard with zoom training sessions that are open to any of our members who join our Facebook pages. Please encourage your children to take part for their mental health as well as their fitness. 
20th November 2020
Its been hard work but we are pleased to report that since reopening in September we have been able to restart most of our classes. This has taken an unbelievable amount of work from our staff and coaches to make and keep our facility Covid free. All our gymnasts have been amazing  following our Covid rules and we would also like to thank all our parents and carers for their support. We are very pleased and relieved that we have not been put into level 4 restrictions at the moment so we will carry on under the current restrictions. We have organised a Christmas competition this year but it will be without spectators but we hope to do some video recordings. 
3rd September 2020
We are open at last. Thanks to a major effort from our staff, coaches and helpers we were able to open our facility again on 31st August. To enable us to open again we have followed the guidelines of our National Governing Body to ensure as can be practicable,  a safe environment for our staff, coaches and gymnasts. As a result we have reduced the number of gymnasts in each class and increased the number of classes each week in order to get as many of our gymnasts back training. We understand that many of our gymnasts will have had little or no training during lockdown and we will be slowly working up the training content over this month. Visit our Facebook pages for further information of class times and availability. Our gymnasts and coaches are delighted to be back and we look forward to exciting times ahead.
16th July 2020
We are delighted to report that we plan to re-open our facility on Saturday 1st August. This is a provisional notice and will depend on final guidance from the Scottish Government and our National Governing Bodies. There will be significant changes to our class times and class sizes to reduce the risk of Covid-19 effecting our gymnasts and coaches. These have been published on our closed Facebook pages. If you are not an existing member your can request to be one by asking to join the class that your child attends. If you are looking to join one of our classes, you can request information from our Operations Manager by emailing vikki@falkirkgym.com. It will be no surprise that to get over 500 gymnasts registered for our new classes is a huge task and we would ask for your patience while your requests for classes are processed. Please do not telephone the gym at this time as our staff are working from home at the moment. 
19th March 2020
❌COVID-19 Update❌
It is with much sadness that from 9pm tonight (Thurs 19th March) we are temporarily closing our gym.
We have our gymnasts wellbeing to think about as well as our wonderful coaches.
We will be back when its safe to do so.
Your continued support is overwhelming and very humbling.
Take care but please please keep in touch. We're going to miss all those wee faces we see every week.
Hayley Grogan will be posting gymnastics challenges to keep you going so I'm looking forward to seeing you all. Mums and dads can get involved too
February 2019
Our club coaches had a very successful evening last night, 28th February at the Falkirk Sports Awards in Falkirk Town Hall. Hayley Grogan won the Young Coach of the Year, Stuart Callahan won the Coach of the year and Robert Callahan was presented with the National Service to Sport Award. Our Infinity Display Team also provided the evening entertainment performing their Alice in Wonderland routine that they will also perform in Greece in June this year. Our next big event will be our Girls Competition Club Championships on Monday 15th April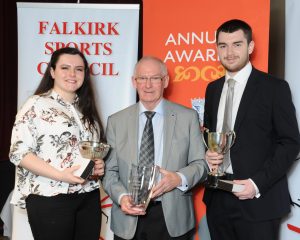 Happy New Year to all our gymnasts, parents and coaches. We hope you all have had a good break over the holidays and are ready to get back to training. Our Christmas show was a great success with over 300 parents and friends attending the two shows. We raised over £1200 which will go a long way to buy new equipment and fund the continuing renovation work at the gym. Our classes will start back to normal on Monday 7th January.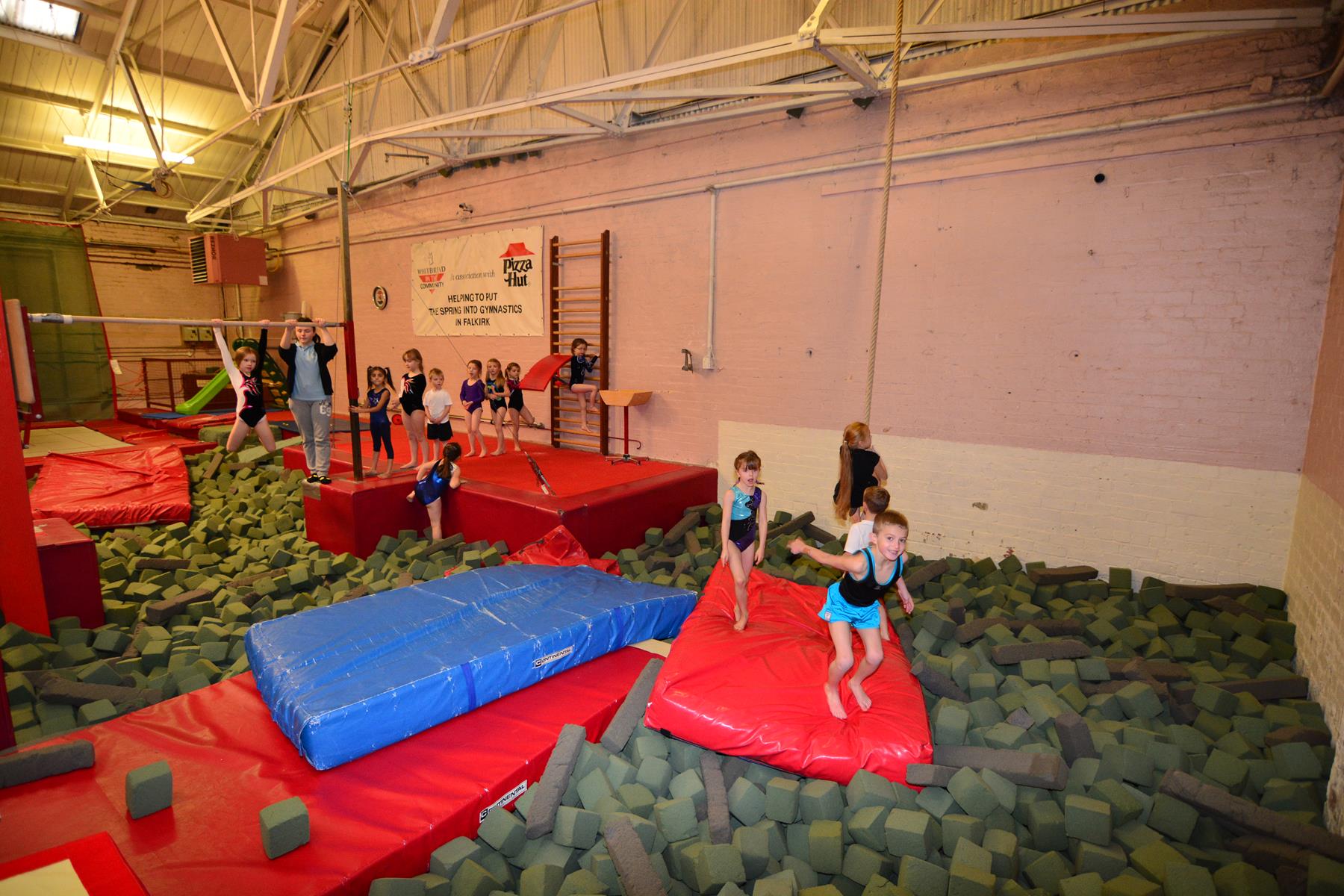 September 2018
Schools are back and our classes are very busy as everyone gets ready for the new session in the gym. We are almost ready to advertise our new classes starting in November. This is an exciting new development for us and we will be starting new disciplines  and adding additional classes to cope with the demand for places. The event calendar is getting busy with the Scottish Gymnastics Gymfest in November and the Women's Artistic Floor and Vault competition also in November. The dates have been agreed for our Christmas Festivals so watch this space for more information.
August 2018 Good luck to all the girls in our Infinity Display Team as they travel to Glasgow Hydro on Saturday to take part in the Showcase event prior to the European Championships Men's Team Finals. This is an amazing opportunity for the girls and coaches to perform in the biggest arena they have ever performed in. During the past month we have been holding trials for our Display Team, Advanced Class and our Girls Competition Club. We have selected a large number of girls who will be moving up during August and wish them every success as they advance through our various advanced gymnastics pathways that we have in our Falkirk School of Gymnastics Facility.
May 2018 Another very successful anniversary competition took place at Grangemouth Sports Centre on Sunday. Over 200 gymnasts and more than 800 parents and friends gave up the warmest day of the year to take part in this annual event. now into its 32nd year. The day was a festival of gymnasts from our preschool Jumping Beans, recreation gymnasts, advanced classes, girls competition club and Infinity display team. Many taking part for the first time were thrilled by the gymnastics skills and witnessed the pathway from beginners to competitive gymnasts. Well done to all the organising team and coaches and of course the gymnasts.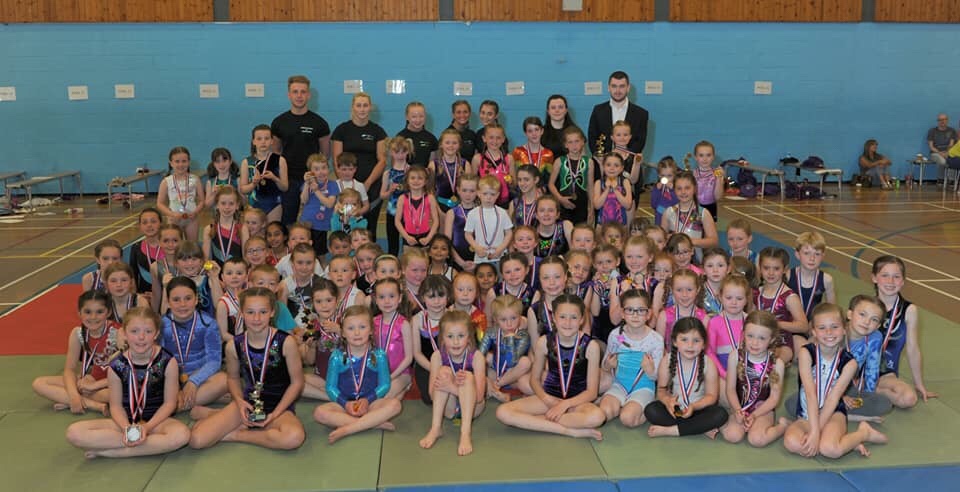 We are now in the second week of the Easter school holidays and already a number of our classes for the new enrolment are full. All the existing gymnasts in our existing Tumbling Beans classes and those Jumping Beans who are going to school in August need to re-apply for their class places for Block 1 starting in July. We also have a busy few weeks with our Girl's Club Championships on Thursday 27th April and our Infinity Display team taking part in the National Gymfest in Aberdeen on 4th to 6th May.
It's Easter already and the clocks have changed and we are all looking forward to some better weather. All our classes are on as usual during the school holidays so those not going away on holiday will still be able to enjoy some time in the gym. We have already started enrolment for the new sessions starting in July. this will be on a first come first place basis as we have a large number of pre-school members starting school after the summer holidays and will be looking for places. the sooner you re-enrol the more chance you have of getting the class of your choice. Note Pre-school members who are not going to school after the holidays do not need to re-enrol. we hope you have a very enjoyable Easter.
Welcome to a new year. We hope that all our gymnasts and their families had a good Christmas break and are ready for 2018. Classes are all back and despite the recent bad weather have been very busy. A large number of new gymnasts have started in January in all our classes and our new coaching systems are up and running and proving very popular. Stacy has found her feet and is proving to be a very popular coach and we are very excited at what she will bring to our club. Our girls competition club had a very good competition in December winning team and individual medals. Our first Christmas show was a great success showcasing all of our gymnastics disciplines with all seats filled on both nights.
At the start of the month we lost one of our coaches Lyndsey who has moved on to a completely new career. Although we were sad to lose Lyndsey we are delighted to welcome Stacy Reid Bsc as our new pre-school and recreation coach. Stacy lives just round the corner from the gym and already is proving to be a good addition to our coaching team. As Christmas approaches we have just completed the badge work exams for our recreation classes and the certificates should be ready to hand out soon. We are arranging a Christmas show in the gym in December where our advanced classes, competition club and display team as well as a selection of Jumping Beans and Tumbling Beans will perform. Also this month our display team will be performing at Gymfest in Perth and our competition club will be taking part in the Allander floor and vault competition. Good luck to them all.
We are now into May and our gymnasts are all preparing for our annual competition. This will be held once again in Grangemouth Sports Complex Abbots Road on Sunday 18th June. Entry forms will be coming out shortly and this year tickets will be on sale before the event to reduce the waiting time on the day of the competition. Gymfest 2017 was held in Aberdeen for the first time last weekend and our Infinity display team took part in all three days. All the routines should be on YouTube shortly. A number of the girls in our competitive club will be competing in the annual Zodiak competition on Sunday 28th May in the Duloch Leisure Centre in Dunfermline. Good luck to all the girls taking part. Its an exciting time for many of our pre-school gymnasts as they get ready to go to school after the summer holidays, but before then they will be moving up to our recreation classes in July. This is a big event for them and we look forward to seeing how they adapt to this new environment.
Easter is here again and many of the gymnasts are away on holiday. However that also means that it is enrolment time for our recreation classes. Our Pre-School gymnasts who will be going to school in August will be moving up to our recreation classes and need to enrol now. Also our existing recreation gymnasts will also have to re-enrol and it will be on a first come first place basis so do not miss out, some of our classes are already full. We are also in the process of starting trials for our advanced beginners classes and our girls competition club. Five girls have already made the step up from advanced beginners to the girls club and we now have spaces to fill in each of these groups. Last month was a very busy time for our coaches as well with six going on a UKCC Level 1 course and the same number on the latest child protection course. This included our new child protection officer June and we thank her for taking on this very important job. Also many thanks to Laura for fulfilling this role for the past few years.
Well that's the end of our 30th Anniversary year and what a year it has been for gymnastics with our best ever results at the Rio Olympics. This has inspired a great number of children to get involved in sport and gymnastics has seen a huge increase in the number of children wishing to take up the sport. We at Falkirk School of Gymnastics have also seen this increase and have been working hard to try and fit in as many children as possible into our classes. This has given all our staff a major challenge but it has been very rewarding to see lots of new faces in the Gym. We would like to thank everyone for all their support during 2016 and wish all our gymnasts, coaches, parents and friends a very Happy Christmas and a wonderful New Year.
Its great to see all the boys and girls back to training after their summer holidays. The new membership renewals are now in full swing and as usual it is a lot of work for our staff. It will be a great help if parents remember to complete the application form and hand it in to the office especially if you pay by standing order. We were delighted to see our advanced beginners and display team wearing their new Milano leotards on Tuesday night. The photographs were excellent thanks to Derek, and we hope to have them on display soon. Leading up to Christmas our girls and boys clubs have a number of national and club competitions taking place and we wish them good luck. Our display team will also be performing at Perth in November at the Perth Gymfest. July 2016 Its now July and the end of another membership year for Falkirk School of Gymnastics. We now look forward to welcoming all our new members in our recreation section especially our pre-school gymnasts who are going to school in August and are moving up to our recreation classes this month. We would also like to take this opportunity to welcome all our new members who have been on our waiting lists but now have a place in our classes. We have also been carrying out trials for our advanced beginners and display team and are delighted that we have promoted 6 news members to our display team and 12 new members to our advanced beginners classes. All classes are on as normal during the school holidays.
We have just completed our 30th Anniversary Competition at Grangemouth Sports Complex where 175 of our recreational and advanced beginners took part. As usual the venue was packed with parents and friends and they were entertained by some excellent gymnastics. Falkirk School of Gymnastics Pre-school opened the competition and our Infinity Display Team closed the morning session and opened the afternoon session with two fine displays. A number of those taking part in the competition will be promoted to our display team, competition club and advanced beginners over the next few weeks. Thank you to all our staff, coaches and judges for giving up their time to ensure our competition was a success. It is nearing the end of another year and many of our pre-school gymnasts will be going to school and will be moving to our recreation classes. We look forward to seeing them there and our coaches will be on the lookout for future champions.