16th July 2020
We are delighted to report that we plan to re-open our facility on Saturday 1st August. This is a provisional notice and will depend on final guidance from the Scottish Government and our National Governing Bodies. There will be significant changes to our class times and class sizes to reduce the risk of Covid-19 effecting our gymnasts and coaches. These have been published on our closed Facebook pages. If you are not an existing member your can request to be one by asking to join the class that your child attends. If you are looking to join one of our classes, you can request information from our Operations Manager by emailing vikki@falkirkgym.com. It will be no surprise that to get over 500 gymnasts registered for our new classes is a huge task and we would ask for your patience while your requests for classes are processed. Please do not telephone the gym at this time as our staff are working from home at the moment. 
19th March 2020
❌COVID-19 Update❌
It is with much sadness that from 9pm tonight (Thurs 19th March) we are temporarily closing our gym.
We have our gymnasts wellbeing to think about as well as our wonderful coaches.
We will be back when its safe to do so.
Your continued support is overwhelming and very humbling.
Take care but please please keep in touch. We're going to miss all those wee faces we see every week.
Hayley Grogan will be posting gymnastics challenges to keep you going so I'm looking forward to seeing you all. Mums and dads can get involved too
Best Wishes 
Vikki-Ann Callahan – Operations Manager
** CORONAVIRUS AND COVID-19 UPDATE 17/03/2020** 
Please note, our gymnastics centre hygiene policy and opening hours are in line with our national governing bodies. For current up to date information please click on the following links:
 Scottish Gymnastics COVID-19
British Gymnastics COVID-19
Thank you for your understanding during this unprecedented time, and for further information please visit the UK NHS advice website here
January 2020
Happy New Year. We hope that all our gymnasts, coaches, parents and carers  had a wonderful Christmas break and are now looking forward to the new year. Our classes restart today 6th January and we are looking forward to seeing all our gymnasts back in the gym, We are delighted to announce that we have a new full time senior coach starting with us in February. This will give us new opportunities to develop our gymnasts and we look forward to seeing the new and exciting skills that she can add to our training programs. 
December 2019
As we near the end of 2019 and also the end of a decade, we can look back on another very busy and successful year. Our new tumbling and trampoline classes have been a great success with full classes every session. Our Infinity display team have been to Greece and took part in Cosmogym 2019 and have just completed another Gymfest in Perth. Our girls competition club have taken part in a number of competitions in the last month winning many medals and continue to improve and update their skills. Our annual competition in Grangemouth Sports Complex had a record entry and enabled us to promote a number of gymnasts to our advanced classes. We had another very successful Christmas show over two days at the start of the month and now look forward to the Christmas break. Our fundraising events during the year have allowed us to paint the interior of the gym, landscape the front gardens, renew the gym heating system and finish the roof renewal on the front building. We wish all our gymnasts, parents and staff and very happy time during our break and look forward to seeing you all again in 2020.
March 2019
Annual Sports Awards
Our club coaches had a very successful evening last night, 28th February at the Falkirk Sports Awards in Falkirk Town Hall. Hayley Grogan won the Young Coach of the Year, Stuart Callahan won the Coach of the year and Robert Callahan was presented with the National Service to Sport Award. Our Infinity Display Team also provided the evening entertainment performing their Alice in Wonderland routine that they will also perform in Greece in June this year. Our next big event will be our Girls Competition Club Championships on Monday 15th April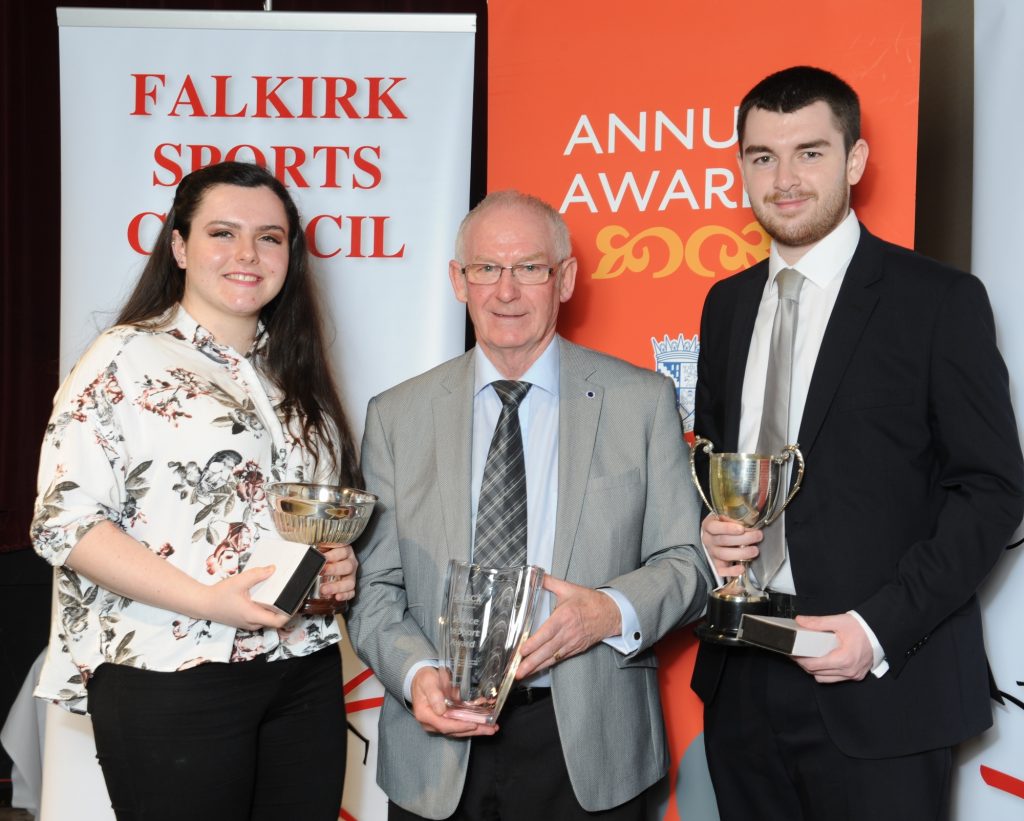 January 2019
Happy New Year to all our gymnasts, parents and coaches. We hope you all have had a good break over the holidays and are ready to get back to training. Our Christmas show was a great success with over 300 parents and friends attending the two shows. We raised over £1200 which will go a long way to buy new equipment and fund the continuing renovation work at the gym. Our classes will start back to normal on Monday7th January.